Currently riding in the third row of a three-row spliter van on a 90 minute drive from Hamburg Airport to Tonder, Denmark.  Most of the AD Band jumped in the sister vehicle and are either just behind us or ahead, while myself and keyboard God, Todd Lumley are sharing this vehicle with John, a guitarist form North Carolina, Sara Lee Guthrie, and the two Ladies of Madison Violet.  Pretty cool to be doing this very European and International drive with musos from all over the place.  Makes me feel like I'm in the club.  Probably shouldn't need such reminders and reassurances at this point, but I honestly mark and appreciate every time I get a moment like this.  Often its these surreal travel moments that confirm your place in the music biz more than a third encore at the Mainstage.
Just flew to Germany from London, England, where I played my first ever solo show overseas at the famous Borderline Club in Soho.  GBS played there a few times, but not since 2007, I think.  It was a thrill to see the room Sold Out as I feared our long absence from the UK music scene might have led people to forget about us, and me, I suppose.  But even on a Tuesday after a Bank Holiday weekend, people filled the room, some coming from as far away a Czechoslovakia and Australia for the gig.  They sang and danced with us and made me laugh and smile and even a bit weepy when they sang 'Where I Belong' louder than me for the finale.  To say it was a Milestone would be an understatement.  Thanks to ye all for the show and the after show at the 12 Bar.
The day before the gig was no slouch either as we all flew over night from North America and on the jet lag day I dragged Cory around London for his first ever tourist run through one of the greatest cities the world has ever known.  And I don't think such a claim is unfair.  Consider this.  I clicked on my runners watch and  walked 2 k from our hotel to Hyde Park and jogged over to the Royal Albert Hall and then down through Marble Arch, and into Green Park.  We ran past Speakers Corner and the Canadian Monument and the Newfoundland Post and around the round about in front of Buckingham Palace.  We continued down the Mall and through the gates at Scotland Yard into Trafalgar Square just below Piccadilly Circus where we took a hard right and ran past West Minister Abbey, Big Ben, The Tower of London and onto Tower Bridge and South Embankment to the London Eye.  We paused for tourist photos and I looked at my runners watch.  It was still not at 10ks.  All of what I have just listed can be seen on a walk spanning less than 8 kilometers.  Truly astounding.  Any country in the world would be chuffed to have so many attractions.  One city, London, has all this.  In one very small section of town.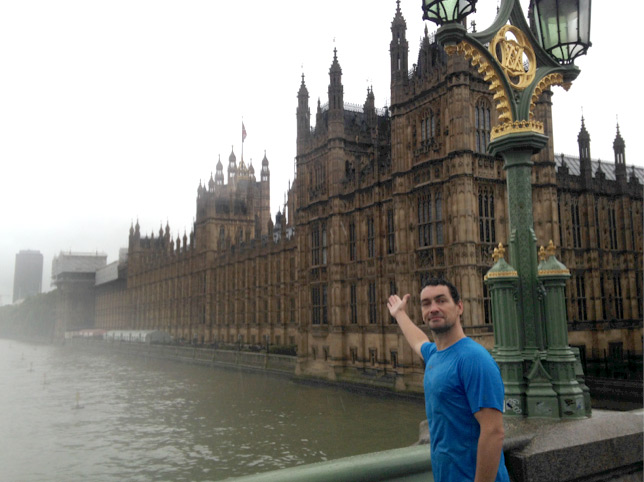 We made our way back to the hotel and collected Tour Manager Andy and Bass God Shehab and went out for a evening look.  After a traditional pint in a very traditional English Pub, I suggested we find an Indian restaurant as London is famous for its Curries and the like.  I remembered a night out well over a decade ago when GBS had just gotten signed to a UK Label called Cooking Vinyl.  The President, Martin took us to a place called the Bombay Brasserie where we abused his corporate credit card drinking way too many Kingfishers.  Somewhere in the haze of the nights debauchery I recalled the food being incredible, so we sought out to find the place.  Sure enough, right across from the Gloucester Tube station, the Bombay Brasserie still stands.
In we went and had had the best Indian food I've ever had anywhere. (with humble apologies to India Gate in St John's, which is awesome).  We rolled back to the hotel for perhaps one drink before bed.  Turns out the evening had more in store for us.  Near our Kensington Hotel, there was a Jamaican or West Indies kind of Carnival in Knotting Hill.  Many of the dance troupes from the festival, scantily clad in feathers and spandex were staying at our hotel.  They had the Lobby bar going pretty good.  Then the bands started showing up.  Including Shaggy.  Seriously.
Kendel joined us and it was fun to be a fly on the wall in that room.  Even had a chat with Shaggy about playing St. John's.  Cory had opened for him with Crush.  Kendel and Shaggy even shared a bowl of chips, though I'm not certain he was wise to it.  I'll let Kendel explain it some other time.
A few more gigs to round out the Summer schedule to come.  The Tonder festival and a gig in Spencerville Ontario are coming up. Most of September I'll be finishing the new Alan Doyle CD.  Keep you posted on all that.
October and November will be mostly book stuff as 'Where I Belong' comes out October 14th.  A full slate of authorish kind of things will unroll soon.  Look out for me coming to a town near you promoting the book.
Also selling early bird tix for some of the shows coming up in January.
All the info will show up on the tour page.
Just rolling into Tonder.  When I came here first in the late '90's with GBS I said this was the best Folk Festival in the World.  15 years later and I still think the same thing.
I am here.  I am a Lucky Bastard.  Tak.
Cheers,
Alan