A three-hour layover in Toronto Pearson Airport allows a moment to reflect on the past 10 days or so and the incredible experience it has been.
On Wednesday, June 24th I brought the Prince to his last day of Grade 3. After a hug I told him I had to go on a plane for a while, but would be back to sing Happy Birthday at his party. Deal made. I boarded a plane for Toronto to take part in the Luminato Festival. A festival of art and creativity where myself and a few other musicians and music journalists discussed our recent foray into writing novels. Got to meet some new friends, Eric Siblin and Lynn Crosbie, who's books are both inspiring in their own unique way. I highly recommend Studio Grace and Where did you Sleep Last Night respectively.
I also got reacquainted with an old friend David Usher. David, as many of you may know, was and is the lead singer of the band Moist who had huge success in the early 90's in Canada and abroad. GBS caught a break and got to open for Moist on Toronto Island in 1994 (I think) at an afternoon bash for Ryerson University (I think). They were a big band at the time and we were just starting out on the College circuit. David and the gents were quite nice and encouraging to us and after the gig David politely turned down a trip to the pub as they had to drive to Cleveland for a gig that same night. (I think)
'You can drive to Cleveland?' I asked.
'Yeah, its about 6 hours and we gotta hop to it.'
I remember it being the first time I ever you could actually drive to more than one major North American city in a day. Until that point I'd only travelled in Newfoundland and a little in the Maritimes and with St. John's as a starting point, it is really two full travel days by car to get to the next big hub of Halifax. The thoughts of playing a daytime gig in Toronto and a late night gig in Cleveland was other-worldy to me. It was great to chat and compare war stories with David and a social gathering to follow with the amazing with the moderator Denise Donlan was a real treat for sure.
On Thursday I had a lunch with my literary agent.
Wow. Just taking a moment to realize I just typed, 'On Thursday I had a lunch with my literary agent.', in a sentence. Certainly never saw that coming, but such is my lucky life these days. We chatted about plans for the paperback and audio book of Where I Belong, due out in the Fall of 2015 and the follow up book to come out in 2017. Now I just have to write it.
I nipped across downtown to the Toronto Island Airport and got a short flight to Montreal. Departing flights from this gem of an airport get an amazing view of the ever-expanding skyline of Toronto. The very downtown the city has been condo-ized in recent years and I, for one, think it has made the city all the better for it. I love the fact that the waterfront has become more walking friendly and inhabited. I love that the very heart of downtown is filled with people who live their and enjoy the bustle of the city, not unlike New York or London. I just think it makes for a much more vibrant and welcoming downtown.
After a quick dash across Montreal airport I got a flight to Frankfurt, Germany where I met some of the band and crew and we were driven to a lovely little town about an hour South called Bad Wimpen. Myself and The Beautiful Gypsies were to play the BalckSheep Festival, a gig that would mark my first time playing in Germany in over a decade. I was thrilled with the hospitality we received from Barb, our lovely tour guide and translator who was as eager to show off her town as we were to see it.
We even got a special tour of the town's tower and the most charming apartment it held aloft. The Tower mistress welcomed us with champagne and tales of the centuries, and as there was a old but amazing piano up there, we offered a song as thanks. You should have heard Todd play while Cory sang Amazing Grace. Every note hanging in heights. Pretty special, I must say.
The Festival was great, as most of them are in that part of the world. Great staging, sound and lighting. Incredible hospitality backstage and an awesome variety of acts from all over the world. I hung in a bit on Friday night and watched a bit of Bob Geldof, but surrendered to the jet lag before midnight as I wanted to have a great set ourselves on Saturday. And have a great set, we did. A huge crowd and ovation took us on and off the stage and I was reminded how gracious German audiences can be.
I ran from our set to the other stage to watch The Hooters, one of my fav bands as a kid. They were one of the first acts I saw on TV that used folk instruments in Rock and Roll and I loved them for it. The melodica and mandolin hook in "So We Danced" remains one of my fav bits of music ever. I even got to meet the gents back stage. 14 year old me would not have believed it. Thanks BlackSheep Festival. Ask us back, please.
After a grand night of carousing and a whisky stand discovery that took us far too late into the late night I got back to our hotel in time for a three hour power nap. The 5:30 am alarm hurt. I'm not going to lie.
I was up so early to catch a ride to Manheim, Germany where I caught a train to Paris. I confess I slept a fair bit of the journey, but as we rolled out of Manheim and into Paris, I pinched myself a few times. Nipping across Europe from gig to gig. How lucky am, at all?
I had about an hour in Paris and caught a train North to Amiens, France, a beautiful town on the Sommes River. I was there to join Allan Hawco and Mark Critch as they were making a film about the triumphant and tragic journey of the 1st Newfoundland Regiment in WW1. I am to write some music for their documentary and they were kind enough to ask me along for some of the locations and to help with the commentary and give an interview. After a stroll around the town, (which is spectacular and has a cathedral that would humbly many in larger Eurpoean centers) I met the gents after they finished their day of filming in various locations.
Hard to quickly describe the pilgrimage that followed over the next three days. I think of myself as a student of Newfoundland history and I thought I had an understanding of our country's involvement in the Great War, and the ripple effects of our victories and losses there. But until I walked in the trenches at Beaumont Hamel, knelt at the gravestones of hundreds of Newfoundlanders buried in a foreign country, and received a grateful handshake from the descendants of a century held Belgian family farm that was saved from occupation and destruction by a single Newfoundlander, I really had no understanding at all.
We were a proud and determined country at the time of WW1, eager to contribute and make our mark no matter how small our numbers compared to the larger allied forces. But we were also very vulnerable as a nation with a tiny population, and the loss of hundreds of our finest changed the course of history for us forever. I look forward to a time when I have thought about this trip more, so I can better relate to you mix strange mix of emotions about it all. Reverence. Anger. Frustration. Pride. All culminating in the singing of the Ode to Newfoundland on Wednesday, July 1st at a ceremony on the very ground where the promise of the country my parents were born in, was killed in a matter of minutes.
I'll be forever grateful to Allan, and Mark and all the documentary film crew for having me along. I'll never forget it.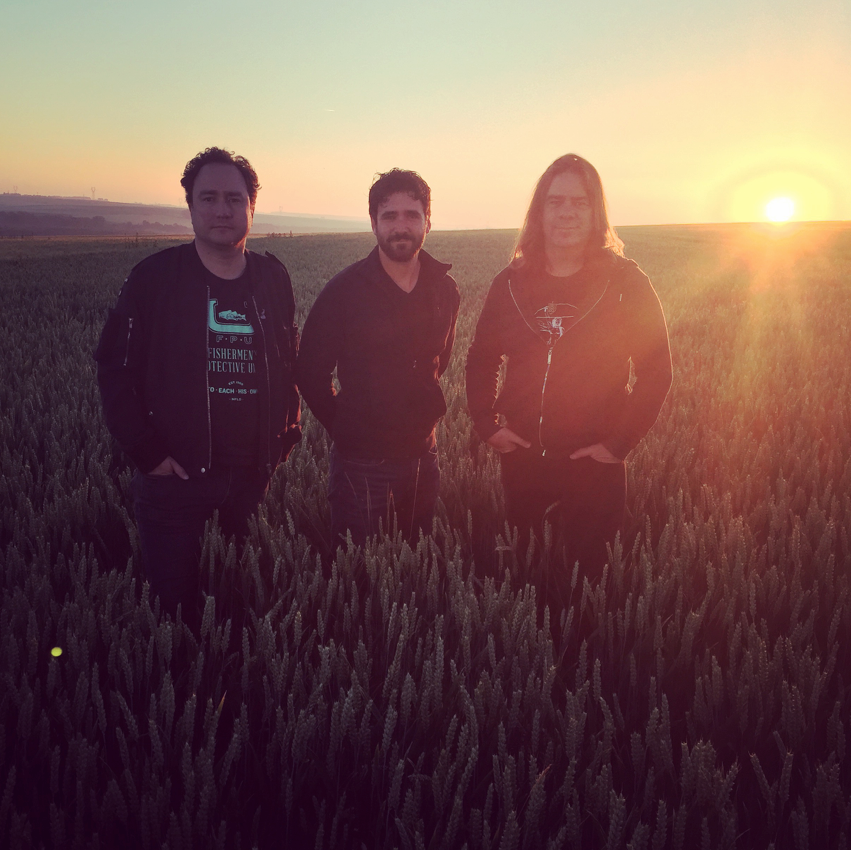 Mark Critch, Allan Hawco, and me at dawn over the Valley of the Sommes.
An early rise on Thursday and I was headed back to Paris and Charles de Gaulle Airport. I caught a flight London, Heathrow and met up with Fiddle Goddess and most Beautiful Gypsy Kendel. We both jumped a plane to Nova Scotia, and just like that, were back on Canadian soil enjoying Thai food in Halifax. As with a week previous in Germany I succumbed to the time changes and got in bed embarrassingly early. The Alan from the GBS days at the Lower Deck in the early 90's would be ashamed of me, but I had to crash as we had two big gigs to come.
An early rise on Friday found me on a bus with all the Gypsies rolling up to Canso, Nova Scotia for a do-over appearance at StanFest. You see, I'd been offered a slot there a year go and was delighted because I'd heard nothing but glowing reports of this festival. Like everyone else involved in 2014, I was so disappointed when a storm forced the organizers to cancel the festival for safety reasons. It was a total drag so I was doubly excited to finally get to play. StanFest did not disappoint. What cool place and eclectic mix of local, regional and international players. We had a great set there and I wanted to stay for the whole weekend, but as this crazy week of travel so often dictated, we had to bolt.
We bolted back to Halifax airport and caught the first flight Toronto and then onto Thunder Bay for the big blues festival. Readers of this blog might recall a tale of when GBS played there a couple of summers ago and I got to sing with another hero of mine, Kim Mitchell. This festival is awesome all around and the me and the Beautiful Gypsies had a wicked set. There was even a cool caricature artist on site. What a time. Please ask this fella back to the festival any time.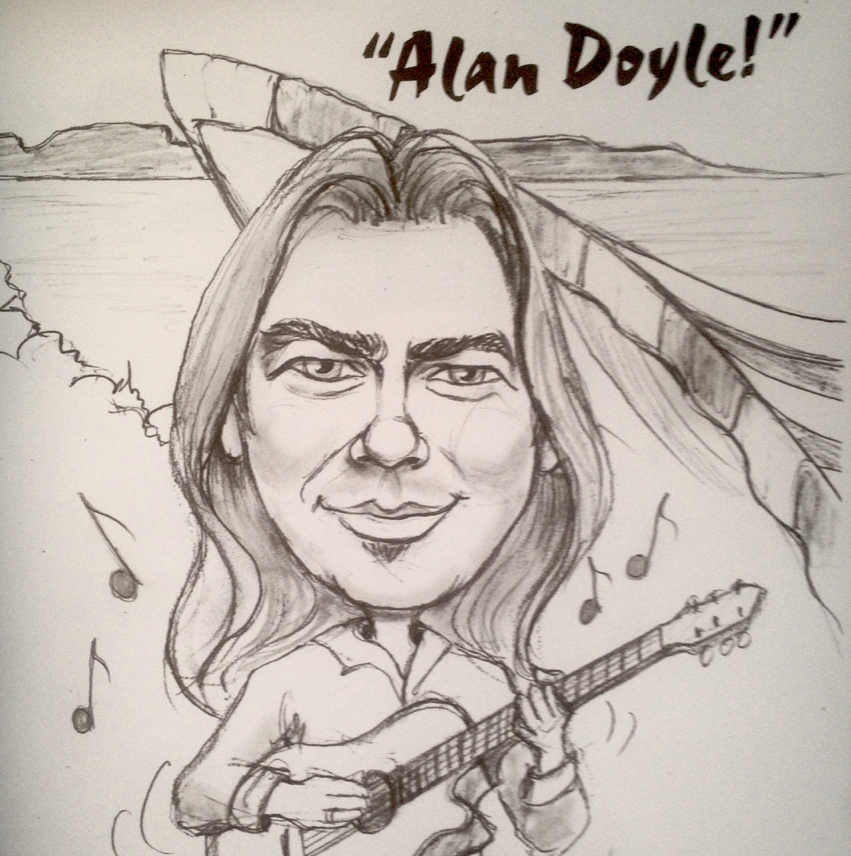 An early flight found me back at the gates at YYZ. Six countries and more kilometers than I can count later, I am catching my last flight of this grand adventure of music, history and song.
Back to Home and to sing my end of a bargain.
Happy Birthday to The Prince.
Cheers,
Alan