Here in my favourite early Saturday perch at the head of Placentia Bay while the Fairest One of All enjoys a much-deserved sleep in and the Prince assembles a Lego creature as fearsome as the morning is peaceful. A lull in the Daddying and Husbanding allows a moment to note what has recently past and what is quickly to come.
The three main legs of the North American SO LET'S GO tour are behind us and I could not be more thrilled with the reception me and The Beautiful Gypsies were given. Way too many highlights to mention them all but I am compelled to tell you that the finale captured by Joel Stewart and his gang at CMT should make for a very cool TV.
Looking forward to a few things that lie ahead. The biggest news of recent weeks is the announcement of the Barenaked Ladies Tour coming in October. Me and the Gypsies will be the support band for the whole deal. I have been a BNL fan since, well, since the very beginning. When Sean and Bob and Darrell and I went into Dermot Oreilly's basement studio in the spring of 1993, we brought a few tapes with us for inspiration and guidance. They contained music that we figured was close to if not exactly in the spirit of what we hoped to make. Cassettes by bands that would demonstrate to us that maybe, just, maybe if we did it as good as them we might make a go of this music biz. This was the leader of the pack.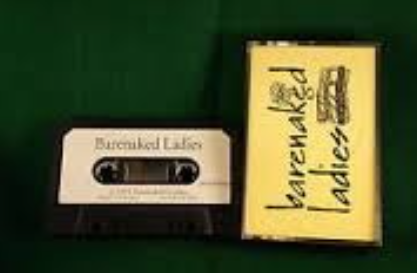 I pulled this pic off the net, but I own at least three copies of this cassette back in St. John's. I was literally an inspiration to us, and the success of BNL with an acoustic brand of very popular music served as a bar for us to jump for. I am thrilled to be on the road with Ed, Jim, Kev, and Ty in the Fall. The tour went on sale a couple of weeks ago and many gigs are approaching sellouts already. I'd love to see you at the gigs. Come early. I'll be up there at 8 pm sharp.
All the dates and info are here.
Also very excited for you all to see the new Shehab Illyas video for 'The Night Loves Us'. Many of you will recognize Shehab as the stoic bass player in the Beautiful Gypsies. A man of many extensive talents, Shehab is an incredibly gifted filmmaker who happens to sleep a few bunks back from me on the bus. Again, who's luckier than me. Two versions of the video are up here, one for Canada and one for International. Check it out. The video is already added to a few video stations and in heavy rotation on at least one. Well done, Shehab.
On the book front, I've started recording the audio book. Should be fun to bring the pages to life, or at least to voice, anyway. It will probably take a week or so to get it all. Much sympathy for my long suffering Engineer friend Mark, who's going to have to sit with me for days on end as I stumble through dialogue, mispronunciations, coughs, and ever failing attempts to stay still. Good Luck with all that.
Really excited about the summer dates for me and the Beautiful Gypsies as the SO LET'S GO Tour rolls along. So far there's gigs in Germany, America, and home in Canada, and there may be another one or two to come. Check out the tour page for all the details and come on down if you find yourself close to a gig.
I'd like to take this chance to thank the folks on the Beautiful Gypsy Bus who've accompanied me for almost 12 weeks on the road already this calendar year. They are both pro's at their gig and incredible folks to hang with.
Andy Robicheau has been my or GBS's tour manager for the best part of a decade and remains the brains of the operation on the road. Can't tell you how often one of us aboard the bus calls his name in the run of a day. He answers the call every time.
Mark Vreeken could very well be the best live audio engineer in the world. I'm serious. He tours with us while getting calls from Prince. I'm serious. On top of that he is incredibly patient and giving of his extensive know-how with the amateur audio recording novices like myself when we pester him daily with problems that he solved for himself over a decade ago.
Freddy Skogheim is the most unexpectedly delightful addition to the crew in a long time. Many of you will recognize Freddy as the fella selling shirts and hats and all that. He is incredibly efficient and organized. Especially for a crazy person. And I say that with as much love as I can muster. Easily one of the most gracious and interesting people I've ever met, Freddy is the King of bus morale. You miss him five minutes after the tour is over.
Kris MacFarlane has had the most unenviable job of trying to keep me from going too fast for over a decade. Somehow, he sticks with it. Not sure how I'd do it without him, now as his kick and snare are the heartbeat of the band. On top of that, he knows all the chords on guitar, piano, accordion, and bass, and cans sing anyone's vocal part when their voice is tired (including mine). He also shares my Habs obsession, which makes the long nights shorter, somehow.
Shehab Illyas, as noted above, is wicked at five or six things in the arts. And still a gentle and humble soul. If I was as good at as many things as Shehab, I'd definitely be a total dick.
Todd Lumley is simply a genius. A wicked pianist who became a wicked accordion player in just a few weeks because that's what the gig asked of him. I am envious of his musicianship almost as much as his calm zen-like philosophy and demeanor, which an emotional reactionary like me is very much in need of.
Cory Tetford was one of the most gifted singers and guitar players I'd ever stumbled upon when I first stumbled upon him (literally) in a club in Clarenville in the very early 90's. I've followed his every step since then honestly think he gets better every hour. I can't wait for his next solo CD. It is going to be amazing. He very kindly waits for me on our runs on the road, even though I know it must be incredibly boring for him to fast walk at his resting heart rate while I stumble behind him gasping for breath in a near state of constant cardiac arrest.
Kendel Carson, the Lady of the House, is as awesome in person as she is impressive and beautiful on stage. If you can believe it, and I wouldn't blame you if you can't, she's every bit a pleasure to travel, eat, drink, and talk with as she is to make music with. I know I speak for the rest of the dudes when I tell you I regularly look across the stage to her and honestly can't believe my luck.
I hoped to get together with the people mentioned above and make a really good touring band. Knowing how great they all are as professionals, I honestly figured we could do it. But I could never have imagined how quickly the folks above have become an incredible new touring family for an old dog like myself.
My brother Bernie, who is much smarter than me, joined us for a few days on the West Coast swing and met most of the new gang for the first time. He had this or something just like it to say,
'What a cast, Al. What a cast. You'd be some lucky to get a bunk on this bus'
And he is right.
Looking forward to the next run with The Beautiful Gypsies. Hope to see you out there, too.
Cheers,
Alan